At an initial visit, clients are asked to fill out a two page Health History Form including contact information, a brief medical history, primary purpose of visit, and informed consent. After discussing this information with the client, the therapist leaves the room, allowing the client to undress to his/her level of comfort. Then the client lies down, covering him/herself with a sheet and rings a small hand bell to signal that s/he is ready. A face rest, bolster, towels, pillows, blankets, heated table, small fan and heater are provided to ensure clients are comfortable. A variety of quiet music and low lighting are also provided to help clients relax.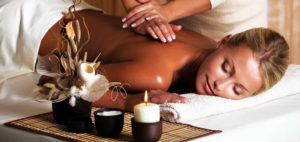 The therapist tailors the massage according to her client's needs, avoiding any areas of the body sensitive to touch, using unscented, hypoallergenic oils, gels and lotions and checks with clients to make sure the pressure is appropriate for them. We offer full body massage, including the head, face, neck, back, abdomen, arms, hands, buttocks, legs and feet. Our goal is to provide safe, effective touch and meet the needs of our clients.
After the massage the therapist will ask for feedback and discuss any areas of concern or suggest stretches and exercises to assist the client in maintaining the benefits of the massage.
Trager Approach
Although Melissa is not a certified practitioner of the Trager Approach, she has extensive training in this form of bodywork, which allows her to incorporate a "Trager flavor" into all of her work. She is able to bring an awareness and mindfulness both to her own body and to the body of her client, to communicate with the nervous system, encouraging her client's body to let go of patterns that no longer serve it, to feel freer, lighter, and more mobile.